Premier Technical Services Group Ltd (PTSG) is on site at Bradford College, where its steeplejack engineers are engaged in a project to dismantle an historic chimney.
Bradford College is a Further Education and Higher Education college with approximately 25,000 students. The college offers a range of full and part-time courses from introductory level through to postgraduate level and caters for a variety of students, including school leavers, adults wanting to return to education, degree-level students and those seeking professional qualifications.
In 1832, the Bradford Mechanics Institute was founded. 50 years later, on June 23, 1882, the then Prince and Princess of Wales (later King Edward VII and Queen Alexandra) came to open the new Technical School. As part of the college's 175-year celebration, it published a list of 175 famous alumni of the college. This list includes ex-students such as Tasmin Archer, Bob Hardy and David Hockney.
Bradford is a city well-known for its historic structures, with a landscape still characterised by urban mill chimneys. Engineers from PTSG Building Access Specialists Ltd were recently contracted to remove the redundant boiler house chimney at Bradford College's Lister Building. The iconic 100-feet-tall chimney had been standing for more than a century but an inspection found that it had deteriorated in some places to a level where it could be dangerous.
PTSG's highly experienced steeplejacks fitted a series of scaffold bands around the chimney to start the task of reducing the stack by removing the coping stones and brickwork. The photographs show the stages of work, from laddering and installing the scaffolding to dismantling the historic structure.
PTSG has completed work at a huge range of sites, from historic buildings that are 1,400 years old, to high-tech, blue-chip industrial buildings, councils, hospitals and private sector properties.


[one_third]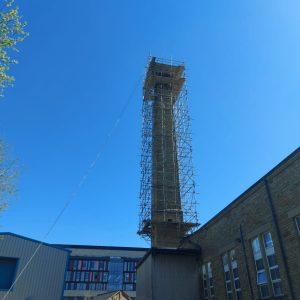 [/one_third][one_third]
[/one_third][one_third_last]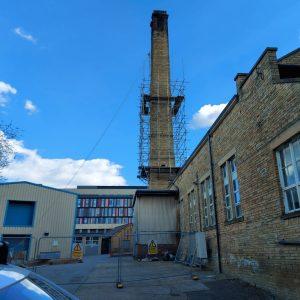 [/one_third_last]