A short history – an incredible story
PTSG was founded in 2007 to fulfil an industry need for a single provider of multiple specialist services to the construction and FM sectors.
Since then, we have become the leading supplier of fall arrest equipment services, electrical testing, specialist building access, fire solutions and water treatment.
We have experienced year-on-year growth across all five divisions: Access & Safety, Electrical Services, Building Access Specialists, Fire Solutions and Water Treatment. This has been achieved through a combination of organic growth and the strategic acquisition of businesses that add greater scope and value to our services.
Headquartered in Castleford, West Yorkshire, the Group now employs over 2,700 people across 47 UK sites. This enables our experts to be mobilised to any site, whatever the location. As a result, we service more than 200,000 buildings for over 20,000 customers in a wide range of industry sectors.
The way in which employers and employees view and do work is being revolutionised. Technology and the desire of workers and businesses to experience the benefits of flexible working are accelerating demand for change. Today is all about the workplace in its many and varied forms. Here's how PTSG is interpreting the change.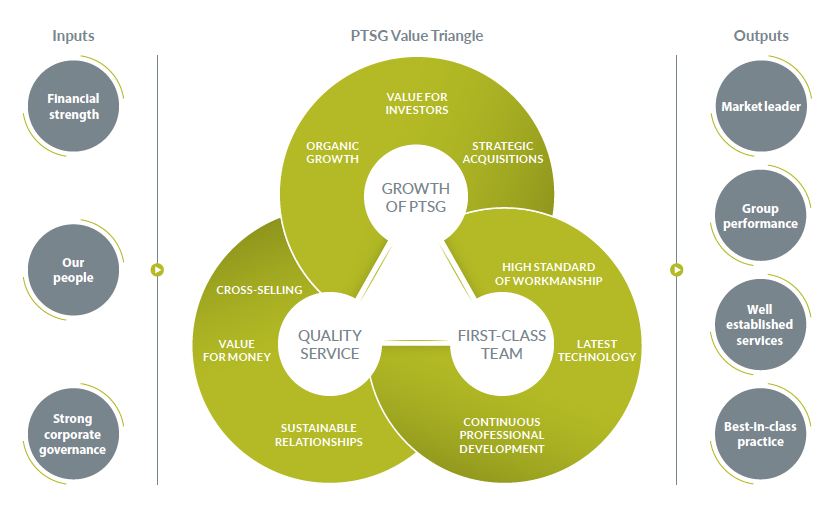 Shift in demand from single service to a one-stop shop
PTSG is still out on its own in offering a range of specialist services under one roof. It has helped to define the Group as offering something extra, compared to its single-service competitors. Many contracts begin with the provision of a single specialist service or product. However at PTSG, we are often able to identify further services which are essential to safe operation of a building and would bring further benefits. This we do at substantially lower cost than finding and contracting a number of different companies to provide those specialist services.
Flexible workplace solutions
The workplace is changing for all sorts of businesses. Technology has changed our concept of the office and as a consequence, the way in which buildings are used is changing too. PTSG has always anticipated the needs of its clients and endeavoured to meet their changing requirements. Sometimes, a change in compliance laws takes place or what is necessary for keeping building users safe is redefined. PTSG is agile enough to realign itself to meet the changing needs of the workplace. This has led to our business going from strength to strength as a consequence.
Leaner working environments
Technology-led solutions are driving efficiency in the workplace. Fewer people are required to physically carry out the same tasks. However, a greater use of – and reliance on – technology places different kinds of demands on buildings. One example is building maintenance units, which are becoming ever more sophisticated. PTSG tests and inspects, services and maintains systems for some of the highest-profile buildings in the country.
Many clients demand trade body membership
PTSG is a member of a number of trade body organisations including ATLAS, which represents the leading players in the lightning protection and specialist access sector since 1946; SAEMA, which is the only trade association dedicated to raising standards for the UK permanent and temporary access industry; and NICEIC, which regulates the training and work of electrical enterprises in the UK. The Group holds over 250 accreditations, underlining its authority and quality of work in the different disciplines in which it operates.
Excellent customer service
Above all else, PTSG aims to deliver outstanding customer service. For the past few years, the Group's contract renewal rate has been above 88%, speaking of the satisfaction amongst clients, who are happy to keep returning to PTSG for the same high standard of service. Clarity, PTSG's unique proprietary software system, has raised the level of service even further since it began to be rolled out. Engineers are able to generate worksheets, certificates and invoices in seconds, so that as soon as their work is finished, customers can carry on with theirs.
24/7, 365 days a year service
Having always pursued a business model which combines organic growth and strategic acquisitions, PTSG has grown to employ over 2,400 people at 47 office locations. This gives the Group a major edge in being able to mobilise its engineers to answer virtually any customer request, wherever in the UK it is. Whether the emergency call is for the dismantling of a damaged chimney (such as the chemical plant in Glasgow, where PTSG delivered a solution in under 45 hours in 2021) or a 40-year contract to provide multiple specialist services (such as for Newcastle Council, via first-tier contractor Engie), PTSG is ideally placed to answer it.