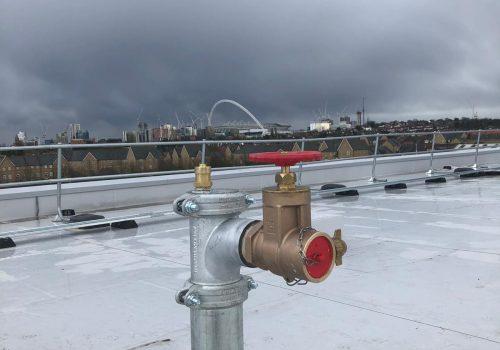 Premier Technical Services Group PLC (PTSG) been involved in a significant number of dry riser installations as part of the capital's Wembley re-development.
Wembley is one of the largest regeneration projects in the country and, according to the Mayor of London, can accommodate around 11,500 new homes and 10,000 jobs through the development of sites along Wembley High Road and the land around Wembley Stadium. Wembley Park is the new 85-acre neighbourhood emerging around Wembley Stadium, which includes a civic centre, student accommodation, 525 affordable homes and refurbishment of the 1934 Wembley Arena (now the SSE Arena).
PTSG Fire Solutions Ltd. is the fastest-growing of the Group's four business divisions. Following the recent acquisition of Trinity Fire & Security Systems, there are now 13 office locations UK-wide, delivering the full complement of fire prevention and suppression systems including: Fire Detection & Life Safety Systems, Fire Detection & Alarm Systems, Public Address/Voice Alarms (PA/VA), Emergency Voice Communication Systems (EVCS), Fire Suppression, Kitchen Suppression, Portable Fire Extinguishers, CCTV, Access Control, Intruder Alarm and Door Entry Systems.