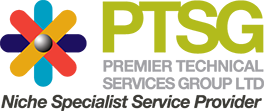 Location: Castleford / Remote
PTSG was founded in 2007 to fulfil an industry need for a single provider of multiple specialist services to the construction and FM sectors.
Since then, we have become the leading supplier of fall arrest equipment services, electrical testing, specialist building access, fire solutions and water treatment.
The Group has 47 sites across the UK from which 2300 employees provide niche services to over 20,000 customers.
Role
This is a new role working in a demanding and dynamic growing business.  This role will lead the IT Service Desk team and effectively manage all aspects of the UK based Service Desk.  Initially focusing on reviewing and setting up first class practices, service level agreements and KPI's, then longer term overseeing incremental improvements and ensuring that exceptional service levels are maintained.
You will be a natural problem solver, technically astute, and with effective managerial skills in which to provide oversight, development, and coaching to your team.
Business communication and education is key to this role, ensuring that the business is supported for its wide variety of IT needs.
Management of the full lifecycle of Service Desk operation, incidents and problem management, and ensuring that effective root cause analysis is undertaken and documented.
Be the escalation point for all high priority requests and ensuring a right first-time principal is practiced.
Development and implementation of training strategies to help the business become more efficient and productive in their day-to-day PC and digital communication activities.
Management of a small but expanding team including performance management, training and coaching of all team members.
Package
Full time permanent position
Competitive package
Occasional remote working
Company car and fuel card for business and personal use
Essential Criteria
Relevant experience as a Team Leader/Manager of a similar IT Service Desk
Degree level (or equivalent) qualification in Computer Science
ITIL certified, Project Management, Agile Methodology
Experience of Freshdesk or Freshservice
Excellent communications skills both written and verbally at all levels
Ownership of Service Desk
Clean and valid UK driving licence
To Apply – Please send your CV in the first instance to [email protected]