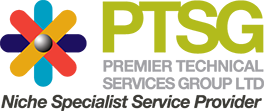 Location: Castleford / Remote
PTSG was founded in 2007 to fulfil an industry need for a single provider of multiple specialist services to the construction and FM sectors.
Since then, we have become the leading supplier of fall arrest equipment services, electrical testing, specialist building access, fire solutions and water treatment.
The Group has 47 sites across the UK from which 2300 employees provide niche services to over 20,000 customers.
Role
The purpose of the role is to develop, enhance and support the internal PTSG mobile application used throughout the PTSG Group's engineering teams and assist in the continued development of the PTSG suite of software.
App Development and Enhancement: Mobile application development and maintenance using Xamarin Android. Design and implementation of new features and improvements to the application and codebase, working collaboratively with the current software development team.
System Development: Assist in the development of the PTSG internal suite of software.
Project Work: Actively be involved with the software team in planning and brainstorming future system enhancements and business improvements, including investigating and implementing new technology such as .net MAUI.
Support: Log, investigate and provide solutions for issues reported by end-users and accurately record the steps taken in the bug tracking system.
Management: As a senior developer you will be involved in managing and supporting the wider development team in the design, development, coding and testing/debugging
Any other duties that can reasonably be expected of the role holder.
Package
Full time permanent position
Competitive package
Essential Criteria
Appropriate experience with C#, .net, REST/JSON, SQLite and Xamarin mobile application development.
Working knowledge of Agile and Scrum methodology essential.
Experience in any of the following areas is desirable:
MVVMCross,
Net Core,
Net Standard,
JIRA,
Syncfusion,
AppCenter,
Visual Studio 2013-2022,
Azure DevOps (TFS)
Full and valid UK driving licence
Excellent communications skills both written and verbally at all levels
To Apply – Please send your CV in the first instance to [email protected]