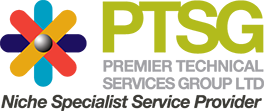 Location: Castleford
PTSG was founded in 2007 to fulfil an industry need for a single provider of multiple specialist services to the construction and FM sectors.
Since then, we have become the leading supplier of fall arrest equipment services, electrical testing, specialist building access, fire solutions and water treatment.
The Group has 47 sites across the UK from which 2300 employees provide niche services to over 20,000 customers.
Role
The purpose of the role is to support the field-based Group Sales team in winning profitable new business, by managing the marketing data on specific targeted markets, generating and qualifying high quality leads and building a pipeline. Including arranging face to face appointments with fully qualified prospects and taking sales responsibility for designated opportunities.
To develop and manage targeted outbound campaigns in accordance with the agreed Business Development strategy. Utilising outbound campaign data (tied into the approved campaign calendar) and delivered through the agreed digital channels.
To appraise, qualify and record campaign returns, actioning follow ups promptly and referring appointment opportunities to field based colleagues when required.
Generating and providing collateral, quotations and proposals directly to campaign respondents when requested, recording accurately in the new business pipeline.
Actively following up on all sales activities recorded in the company CRM system, ensuring key actions are completed not later than the agreed date.
Providing regular updates on internal sales activity and campaign outcomes to the Leadership team, including sales won / lost, pipeline movement and assigned qualified appointments.
Develop and maintain a Sales and Tender Management system that can act as a central depositary where information required for quotations and tenders across the Group can be stored, accessed and easily updated. This includes the Schedule of Rates, relevant documents from the Health & Safety Management System, answers to FAQ on Pre-Qualification Questionnaires, Case Studies etc.
To provide internal administration support to field-based Account managers when essential.
To liaise with the Group Sales Director in order to report when require on account performance i.e., Total CBRE output and areas for opportunity.
Continuously review administration processes and suggest improvements where necessary or appropriate.
To support nominated customers as a point of contact for essential contract related MI.
Package
Full time permanent position
Competitive package
Essential Criteria
Internal sales/analysis experience in the service sector
A strong, demonstrable understanding of the sales cycle
Able to demonstrate sound commercial and financial business knowledge
Proven experience of dealing directly with customers in a business-to-business environment
Must be IT literate in all Microsoft Office software
Excellent communication skills
Empathy with customer issues
Be able to communicate ideas effectively through both spoken and written communication
Be able to time-manage/plan on a daily basis
Be able to analyse and organise numerical, sales and statistical data
Be competent in Word, Excel and PowerPoint
Self-Motivated with strong Interpersonal skills
Persistent and tenacious
To Apply – Please send your CV in the first instance to [email protected]