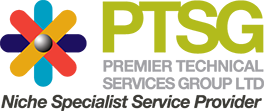 Location: Castleford
PTSG was founded in 2007 to fulfil an industry need for a single provider of multiple specialist services to the construction and FM sectors.
Since then, we have become the leading supplier of fall arrest equipment services, electrical testing, specialist building access, fire solutions and water treatment.
The Group has 47 sites across the UK from which 2300 employees provide niche services to over 20,000 customers.
Role
The purpose of the role is to be the first point of contact for our customers, employees and all visitors to the Castleford site.  Professionally answering all phone calls, redirecting calls, dealing with incoming and outgoing mail and preparing for events, meeting room bookings and organising catering.
Additionally, provide administrative support to the Group, in areas such as website communications, travel and accommodation.
·         Answering telephone calls and queries in a friendly, professional manner and redirecting them to the appropriate person or department.
·         Greeting visitors and informing the hosts of their arrival
·         Organising travel and accommodation for staff members
·         Administration of PTSG information, ensuring all website enquiries and requests are followed through
·         Responding proactively to external communications throughout the PTSG website
·         Any other administration task as direct by the Senior Team
Package
·         Full time permanent position
·         Competitive package
Essential Criteria
·         Previous administration experience is essential
·         Experience of dealing with a busy Switchboard and Reception desk essential
·         The need for confidentiality, self-motivation and good timekeeping are essential
·         Computer literacy (Word, Excel, Outlook)
·         Proactivity and the ability to work both within a team and on your own initiative
·         Good written and verbal communication skills
·         Attention to detail
·         Preferably experience in customer service
To Apply – Please send your CV in the first instance to [email protected]