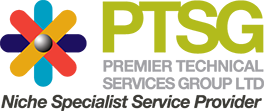 Location: Castleford
PTSG was founded in 2007 to fulfil an industry need for a single provider of multiple specialist services to the construction and FM sectors.
Since then, we have become the leading supplier of fall arrest equipment services, electrical testing, specialist building access, fire solutions and water treatment.
The Group has 47 sites across the UK from which 2300 employees provide niche services to over 20,000 customers.
Role
The purpose of the role is to ensure PTSG meets and exceed regulatory, statutory, customer and organisational standards, through robust quality assurance systems.
Responsible for the development and ongoing maintenance of robust quality management systems ensuring PTSG statutory duties are fulfilled and exceeded. Ensure systems and services are monitored and reviewed in order to continually improve quality and outcomes for employees and stakeholders.
Responsible for the ongoing development and maintenance of the groups ISO 9001, 14001 and ISO 45001 accredited integrated management system
Assist in developing and implementing practical and effective methods (both preventative and remedial), of promoting compliance within the group.
Deliver or organise in-house training for managers and employees in respect of quality and compliance and including, when required induction training to new employees.
To be involved in producing responses and documents, to ensure consistency in quality of submissions and maintain management information systems.
Undertaking formal inspections and reviews of functional activities to ensure the HSEQ management systems are operating in accordance with their aims and objectives
To ensure all group locations are fully compliant with company policies and procedures and maintain a system of monitoring regular audit checks.
Support and as required to support the HSEQ team performs drug and alcohol testing as directed
To work with HSEQ advisors and acquisition director in the due diligence process in relation to any new acquisitions, identifying gaps in the quality of provision and devising appropriate action plans.
Work with the H&S administrator and action as necessary PPE, LOLER reports and calibration records.
To perform any other duties required from time to time that fall within the scope of this job description (but not limited to the job description) as required by the health and safety director.
Package
Full time permanent position
Competitive package
Essential Criteria
Experienced quality and safety professional who has ideally operated in a multi-site technical/engineering environment
Diploma in Quality Management or IQA equivalent
Significant knowledge of quality and compliance legislation and related Codes of Practice
Strong influencing and communications skills and the ability to adapt to different audiences and explain regulatory information in a succinct, interesting, and understandable manner
Strong analytical, problem-solving, and organisational skills
Good IT skills including Microsoft Outlook, Word, PowerPoint, Clarity and Excel
Full driving license required.
Proven knowledge and experience of quality and compliance
Substantial experience of quality management systems
To Apply – Please send your CV in the first instance to [email protected]