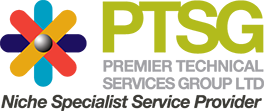 Location: Castleford
PTSG was founded in 2007 to fulfil an industry need for a single provider of multiple specialist services to the construction and FM sectors.
Since then, we have become the leading supplier of fall arrest equipment services, electrical testing, specialist building access, fire solutions and water treatment.
The Group has 47 sites across the UK from which 2300 employees provide niche services to over 20,000 customers.
Role
The purpose of the role is to provide administrative support to the multiple head office functions within the Castleford site.  Supporting the wider team, providing an exceptional level of service to both internal and external customers.
·         Customer Service
o   To receive, action and direct telephone calls, mail and email requests for information, service or support in a timely, professional, courteous and customer-focussed manner.
o   To update customer portals with required documentation once work has been undertaken thereby facilitating payment.
·         Office Admin
o   Raise Purchase Order requests, liaise with Finance and submit orders to suppliers when requested
o   Dealing with certifications and assisting departments, covering for absence where necessary
o   Ordering essential equipment, stationery and completing weekly engineers job packs in a timely manner
o   Inputting information on spreadsheets and processing payments for parking fees, lodging appeals through the relevant local authority for legitimate parking to be reimbursed.
o   Supporting with the identification of parking and hotel options for the Engineers working away from home and where requested by the Operations team make the necessary arrangements
o   Ensure electronic and paper files are well organised and accurately maintained
o   Organise the retention and archiving of paperwork that must be retained for safety and financial reasons.
·         As a member of small team, provide administrative support to others in the wider team as directed.
Package
·         Full time permanent position
·         Competitive package
Essential Criteria
·         Proven experience in a similar role (service orientated with field-based personnel and national customers)
·         Strong IT skills, including MS Outlook, Word and Excel
·         Excellent communication and organisational skills, with proven experience of accurate information and systems maintenance
·         Good attention to detail
·         Professional, customer-focussed manner, helpful and supportive to colleagues
To Apply – Please send your CV in the first instance to [email protected]