Industrial Rope Access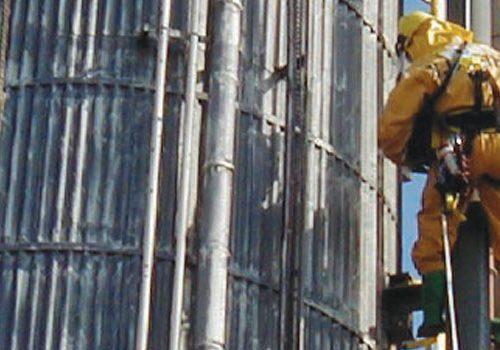 As a long established steeplejack company, the team at PTSG were the first in the UK to bring about a valuable harmony between Steeplejacks and Industrial Rope Access. We became the first company internationally to be full members of both Atlas, the Steeplejack governing body and IRATA, The Rope Access Trade Association.
Rope Access is arguably the safest method known to the industry of reaching high and awkward places. Qualified personnel will design and install a unique system to suit your specific requirements and by using tried, tested and approved techniques we will access your problem safely, quickly and cost effectively. Each team is also fully independent to accommodate any potential rescue scenario encountered.
Working from fail safe anchors and using high strength industrial ropes, we can access and work on large areas smoothly and effectively by moving vertically and laterally with ease. Rope access technicians are also trained to work along beams and other supports.
Using a system of slings and attachments we can carry out a wide range of installation, maintenance and construction tasks which could otherwise have required the use of towers or mobile platforms.