Safe Use of Harnesses and Lanyards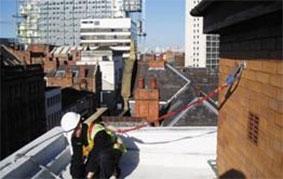 Course Summary:
This is a vitally important course for all individuals who are ever likely to work at heights or on rooftops. Suitable for those new to working at height and also as a refresher course for more experienced operatives.
Training is delivered by an experienced qualified instructor and can take place at our Training Centre at Parkhouse Industrial Estate, Newcastle-Under-Lyme or alternatively at your own premises.
Aims and objectives of course:
To ensure trainees understand the following:
Reasons for wearing harnesses
Correct wearing of harnesses and lanyards
Care and maintenance
Types of fall arrest devices
Selection of anchor points
Maximum number of delegates: 10
Duration: half day
For further information about dates / availability and costs, including multi-booking discounts contact:
Anthony Colley
Tel: 01782 565797
Email: ant@thorlightning.co.uk