Safe Use of Abrasive Wheels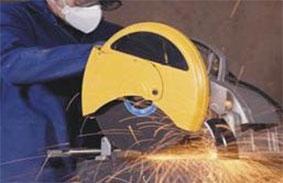 Course Summary:
An essential course for those intending on using abrasive wheels. Designed to minimise risk and improve safety in the workplace.
Training is delivered by an experienced qualified instructor and can take place at our Training Centre at Parkhouse Industrial Estate, Newcastle-Under-Lyme or alternatively at your own premises.
Aims and objectives of course:
To enable trainees in the safe use of correct selection and mounting of abrasive wheels in accordance with the relevant regulations.
Trainees will be able to:
Identify the uses of abrasive wheels including hazards and precautions
Dress abrasive wheels where appropriate
Check whether discs or wheels are safe to mount
List the methods of testing to understand the need for safe handling, transport and storage
Use the British Standard marking system
Select the correct PPE
Maximum number of delegates: 10
Duration: half day
For further information about dates / availability and costs, including multi-booking discounts contact:
Anthony Colley
Tel: 01782 565797
Email: ant@thorlightning.co.uk