Remedial Repairs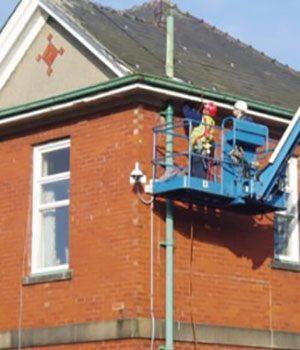 Periodic maintenance inspection of any type of equipment is a good idea. In the case of a lightning protection system it is absolutely essential.
PTSG Electrical Services' engineers carry out an annual inspections ensuring your lightning protection system is performing safely and efficiently.
During the inspection the mechanical condition of all conductors, bonds, joints and earth electrodes should be checked and the observations noted.
The periodic inspections and tests will indicate what maintenance, if any, is needed. We also test and maintain ESE and Pulsar systems.
Current maintenance contracts include:
Staffordshire County Council
Stoke on Trent City Council
Birmingham City Council
Oxfordshire NHS
BMW
Department for Work and Pensions
Marks & Spencer
Bentley Motors
Many people find working at heights a problem, but not our engineers.
As part of PTSG, our employees are fully trained in working at height and comply with all of the latest safety legislation.
As well as installing lightning protection systems on top of some of the country's highest buildings, they have been specially trained to undertake virtually any type of height work.
PTSG Electrical Services' engineers are trained in the safe and efficient use of the following apparatus:
Fixed or mobile scaffolding
Mobile elevated platforms
Cradles or ropes
Ladders and ladder extensions
They are also expert climbers of permanent buildings if this skill is required. They will undertake most remedial and maintenance work at virtually any height.