LOCOG / London Olympics 2012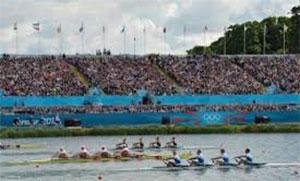 PTSG takes Gold ahead of Olympic Games
Background: PTSG Electrical Services provided lightning protection at what were to become some of the most successful Olympic sites for British athletes.
Results: PTSG Electrical Services was drafted in by the London Olympic Games Organising Committee (LOCOG) to provide lightning protection at some of what were to become the most successful Olympic sites for British athletes.
Engineers from PTSG's lightning protection division safeguarded the 30,000 seater grandstands at Eton Dorney – where the rowing took place, the 12,000 seater grandstand at the Lee Valley White water centre and the grandstands at Hampton Court Palace for the Road Cycling Time Trial.
A former royal residence based on the banks of the River Thames in south-west London, Hampton Court Palace provided a spectacular setting for the Road Cycling Time Trial.
The Lee Valley White Water Centre is located 30 kilometres north of the Olympic Park, on the edge of the 1,000-acre River Lee Country Park – part of the Lee Valley Regional Park.
Set in a 400-acre park within a nature conservation area, Eton Dorney Rowing Centre at Dorney Lake is acclaimed as one of the finest rowing venues in the world.
Recognised as lightning conductors of excellence, the team at PTSG Electrical Services were delighted to receive a glowing reference for the work they delivered in the summer from Alexia Albon of LOCOG:
"I wanted to take the opportunity to say a very big thank you for your help delivering the earthing and lightning protection requirements at the London 2012 Olympic and Paralympic Games. I have received numerous accounts of how the professionalism and proactive attitude of your engineers helped us bring our venues over the line. In particular the team at Eton Dorney have asked me to pass on their special thanks.
In my capacity as LOCOG Contract Manager for Technical Services, I wouldn't hesitate recommending PTSG Electrical Services for future projects. You have a very good reputation throughout LOCOG and I very much hope this leads you to new business.
Thank you for being a pleasure to work with and for making this contract very easy to manage! I only hope in my next role I find such wonderful suppliers."