Kings Cross Station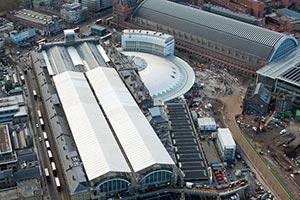 Building great relationships down the line
Background: BAM has appointed PTSG to carry out installation of all lightning and surge protection as part of a major regeneration programme around King's Cross station in North London.
Results: In a contract worth £100,000, PTSG is providing lightning protection as part of a £170m project to design, construct, extend and renovate the Victorian Eastern Goods Yard complex at King's Cross.
Working in close partnership with BAM, PTSG engineers and back office staff have stuck to a strict build schedule by carrying out a coordinated programme of lightning protection.
The deal, which has brought in a further £200,000 of orders, is a result of careful relationship building between the two companies.
Andrew Dack, Managing Director, PTSG Electrical Services Ltd, said: "We have an excellent relationship with BAM and are on the preferred contractor list.
"BAM totally trust us because of the competency of our engineers and the way we service their needs on a day-to-day basis."