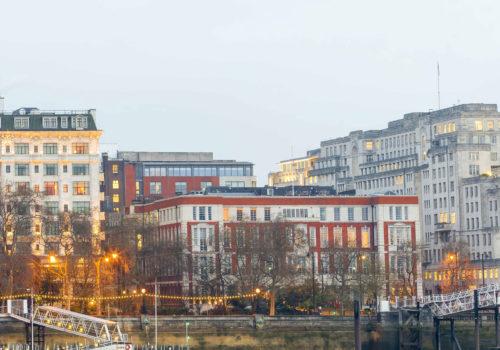 Premier Technical Services Group PLC's (PTSG) Electrical Services division has carried out improvements to the lightning protection system at the Institute of Engineering and Technology where 19th-century scientist Michael Faraday lectured and worked.
The improved system will ensure that staff, students and visitors are safe from lightning strikes, preventing surges and damage to electrical equipment. It will also prevent damage to the institute's home at Savoy Place, constructed in 1889 and home to the school since 1909.
Michael Faraday is famous for developing the faraday cage, an enclosure used to block electromagnetic fields. The cage sits around the object it is designed to protect and distributes any charges around the cage's exterior, cancelling out any charges within the interior.
'PTSG's engineers were testing and repairing [Faraday's] theory at his former place of work'
The system was invented in 1836 and the technology is still used in lightning protection systems, meaning that PTSG's skilled engineers were testing and repairing the theory at his former place of work.
PTSG is well known for its expertise in designing, installing, testing and repairing lightning protection systems. With more than two decades of experience, PTSG Electrical Services is the UK market leader and member of the Association of Technical Lightning & Access Specialists (ATLAS).