Royal Bank of Scotland, London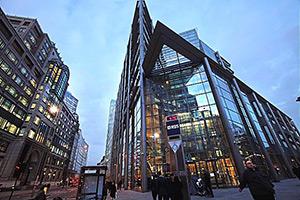 Tall order makes bank statement
Background: To replace existing window cleaning cradle that was no longer in use at one of Royal Bank of Scotland's central London offices.
Results: Royal Bank of Scotland's landmark offices at 135 Bishopsgate were starting to show signs of fatigue due to non-functioning window cleaning equipment, when PTSG was approached to provide a solution. PTSG is the maintenance provider for the banking group through its network of FM clients and has carried out similar work for RBS at its offices in Leeds, Manchester, Edinburgh and Glasgow.
On the face of it, it was a relatively straightforward task. But the location of the building, in one of the busiest parts of the capital close to Liverpool Street station, and the specification of an appropriate replacement for the 4-tonne machine required detailed control of planning and logistics.
After verifying that the existing structure and rail track were suitable for the new machine, PTSG specialists worked closely with design partners Atech to ensure that the new equipment fitted the building's load specifications and performance requirements.
The installation itself required precise, to-the-minute planning to ensure that the new machine would be in place in the very small time window available. The small, multi-disciplinary team worked under spot lights through the early hours of a Sunday morning to ensure that the required road and walkway closures were in place before a mobile crane removed the existing equipment and installed the new one.
The lifting operations were completed by 9am with an hour to spare.
Karl Greenfield, PTSG installations director, suspended access, said: "The customer was very pleased with the professional way we delivered this installation with a very small but dedicated team.
"We see retrofitting Building Maintenance Units as one of our specialist areas. We can manage the whole package, from design and consultation to the installation itself, with the minimum inconvenience to customers."