AIG Head Office, London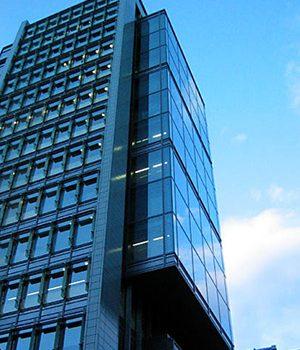 Programmers give cleaning arm new muscle
Background: PTSG repaired and reconditioned complex window cleaning equipment that had been out of service for two years.
Results: With its iconic design, the head office of AIG Inc. at the heart of the City of London, is one of the capital's highest profile addresses. But a problem with its 20m knuckle-jibbed boom meant that cleaning could no longer take place on some of its windows. Manufactured in New Zealand, the faulty cleaning arm had frustrated all attempts at repair until PTSG was called in.
The engineering team quickly diagnosed a problem with its electrical circuitry and computer programming. As replacement parts and software were unavailable, PTSG started from scratch, rebuilding and replacing the programmes with a bespoke solution capable of being maintained and repaired, if need be, at a later date. Commissioning and insurance testing was carried out and the machinery, which had lain idle for two years, was up and running again within two weeks.
Scott Hawtrey, Southern Director, Access and Safety, said: "The successful completion of this project shows our technical ability and flexibility. We're the only player in the industry with our own specialist Pro-logic programmers. It mean that our engineers were able to tell the programmer exactly what they wanted and solve a seemingly intractable problem in under two weeks."