Mansafe systems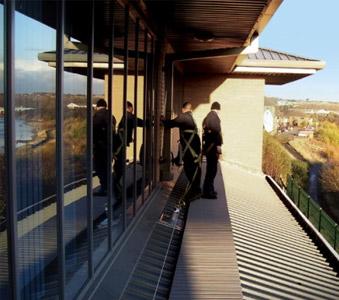 A mansafe system is used to keep the operative safe by connecting them to the system using appropriate PPE. The system comprises cable, post and fixings that are tested to take the fall of the user. These usually take the form of a fall arrest system or a fall restraint system.
A fall arrest system allows maximum freedom to move. It allows the operative to reach the point where fall could occur. However, should fall happen, the system would arrest and allow the user to be rescued or rescue themselves.
Fall restraint systems are suitable for works that need to get near the edge, but not at the edge. The systems are installed more than two metres from the edge with the operative using a 1.5 metre lanyard. However the system is still tested to fall arrest loads in the event that the system is misused – e.g. using a longer lanyard which would take someone over the edge.