BBC Media City, Salford Quays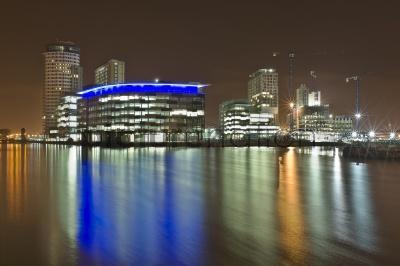 "At the cutting edge of design"
Background: To design, install, test and commission replacement building maintenance units, abseil monorail systems and fall protection systems.
Results: Media City occupies a 15ha site and, as its name implies, is intended to attract a range of media companies including publishers, digital content providers, production studios and games developers. It also includes a media education facility for Salford University.
The project when in full swing, had 1,950 workers on site dealing with up to 400 deliveries a day working to a very tight programme, as such, the PTSG Access and Safety team had to be fully in control of planning and logistics which included timed deliveries of plant in excess of 25,000kg and organisation of mobile cranes to lift the equipment into position.
With a final contract value exceeding £2m, PTSG Access and Safety designed, installed, tested and commissioned six building maintenance units (BMUs), ten suspended platforms, eight cradle monorails, thirteen abseil monorails, one travelling gantry, six abseil bracket systems, twelve wire-based fall protection systems, three free standing guardrails and five access ladders and platforms; and the supply and installation of the secondary steelwork to support the systems.
PTSG Access and Safety were able to deliver the project on time and on budget. As testimony to the design and installation of the systems over one hundred tradesmen were demonstrated in the safe use of the equipment in order to complete the construction phase of the envelope project for a further 12 months after initial the commission.