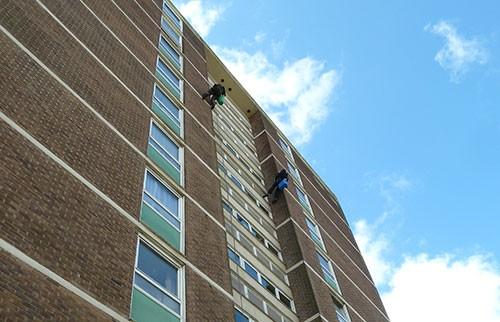 Wolverhampton flats kept pigeon free thanks to PTSG
Premier Technical Services Group (PTSG) has been praised for its work to help install pigeon deterrent netting to a 10-storey building in Wolverhampton.
The High Level Cleaning division of PTSG worked with pest control experts Rentokil to provide rope access labour to fit the netting to the block of flats on the Boscobel Estate.
Ray Perrotte, managing director of PTSG High Level Cleaning, said: "The Boscobel Estate had suffered over the years with pigeon issues.
"The birds were fouling the sills and balconies over a period of years which as well as being unsightly was a health hazard to the residents.
"The solution was to fit netting to all of the individual balconies
200 in total and to five alcove areas to prevent the birds from roosting. Our job was to fit the netting to the alcove areas with one net being fitted to each block from top to bottom."
The works took five days to complete and required PTSG's IRATA trained rope access technicians to work from dead weight trollies on the roof as a means of anchorage, and then to abseil down.
In order to fit the bolts, wires and netting, the team had to complete five drops per block, while the Rentokil team worked on the balconies.