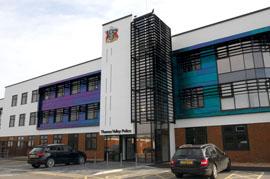 Thames Valley Police puts trust in PTSG to maintain lifesaving safety systems
Premier Technical Services Group (PTSG) has secured a three-year contract with Thames Valley Police to complete essential works on lightning protection systems at a number of stations across their jurisdiction.
The group's Electrical Services division will carry out testing and any necessary maintenance works on the systems at police stations throughout the Thames Valley.
Jason King, business development manager at PTSG, said: "PTSG has again beaten off stiff competition to secure this contract to test and maintain lightning protection systems at police stations throughout the Thames Valley.
"Fully maintained lightning protection systems are vital to safeguarding business premises but, more importantly, to ensuring the safety of those working in them.
"We are looking forward to working with Thames Valley Police over the three year period of the contract to provide safe, high-quality and environmentally friendly services to the force's sites."
Thames Valley Police, which has its headquarters in Oxford Road, Kidlington, is the territorial police force responsible for policing the Thames Valley area covered by 48 stations across the ceremonial counties of Berkshire, Buckinghamshire and Oxfordshire.
It is one of the largest territorial police forces in England and the largest non-metropolitan one, covering 2,200 square miles (5,700 km2) and a population of more than 2.1million people.
With more than two decades of experience in the design, installation and testing of lightning protection and earthing systems, PTSG Electrical Services is the UK market leader and member of The Association of Technical & Access Specialists (ATLAS).
Its expert design team can provide either a standard or bespoke solution as well as produce layout drawings to meet architect, consultant and contract engineer specifications.
All new installations, remedial work, testing and inspections are undertaken by the division's experienced and thoroughly trained engineers based across the UK.