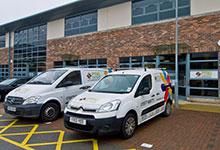 PTSG's Nottingham team gets a new home
Premier Technical Services Group (PTSG) has relocated its Nottingham-based teams to a new office in the prestigious H20 Sherwood Business Park.
This unique development is set amongst the ornamental lakes and tree lined avenues of Sherwood Park; one of the UK's premier business parks.
It is home to a thriving business community of headquarter office buildings, leading-edge manufacturing facilities, call centres and mixed occupancy offices. It has been chosen by many well-known companies such as Rolls Royce, Eon, L'Oréal and now PTSG.
Paul Teasdale, CEO at PTSG, said: "The office facilities are excellent and will make a very nice new home for our Nottingham based operations.
"The office has been designed to accommodate all the different constituent businesses which make up the PTSG family and will support further expansion and growth as we move towards our goal of becoming the UK's number one facilities management partner."
On the north western edge of Nottingham, H2O doesn't just offer exceptional office space, but benefits from excellent road communications as it is situated off Junction 27 of the M1 motorway which has recently been widened to four lanes between junctions 25 and 28.