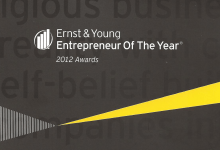 PTSG's Managing Director celebrates after making shortlist
The company's Managing Director narrowly missed out on being named as the most successful entrepreneur across the north of England.
Making the shortlist of the prestigious Ernst & Young Entrepreneur Of The Year awards put Managing Director Paul Teasdale among the most successful business leaders in the country.
The awards, now in their 14th year, celebrate the successes of the biggest businesses across the country. Those shortlisted represent businesses with combined revenues of £18 billion, can boast the employment of more than 63,000 people and have seen growth exceed 20% or more since last year.
Paul said: "I may not have won but it was honour indeed to be considered for such a prestigious award.
"I may personally have been shortlisted, but the increased revenue and growth of the business would not have been possible without the dedication and commitment of every single staff member.
"I hope we can continue along the same route and maybe next year win the award."
A spokesman for Ernst & Young said: "In the UK we are celebrating the most inspiring entrepreneurs through our regional awards programmes.
"Our regional finalists have impressed us with their innovation, their entrepreneurship, their risk taking, their desire to grow global businesses.
"Entrepreneurs create many of the world's most dynamic and successful companies. That's why Ernst & Young's Entrepreneur Of The Year is considered the world's most prestigious business award—because it goes to the most exceptional from among a unique group of people."