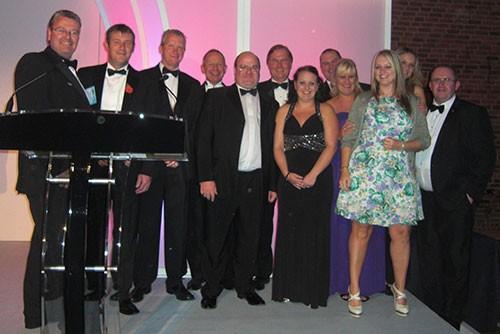 PTSG to sponsor the PFM Awards 2014
Premier Technical Services Group (PTSG) will sponsor this year's PFM Awards.
PTSG is one of seven category sponsors, alongside Shepherd FM, Cofely, Arthur McKay, MITIE and 14forty.
Paul Teasdale, chief executive at PTSG, said: "PTSG is delighted to be sponsoring this year's PFM Awards. The awards ceremony is recognised as a highlight on the FM calendar and is a great opportunity to network with other companies in the sector. We are already looking forward to what is shaping up to be a brilliant night in London later this year."
The categories for this year's awards are listed below.
Partners in FM – Corporate
This category is for strategic partnerships where a wide range of support and facilities management services are delivered and managed for a large corporate or public sector client organisation. Entrants should demonstrate how the partnership is strategically aligned with the client's business needs and reflected through the supply chain to effectively deliver a broad range of services.
Partners in FM – Healthcare Facilities
This category is for partnerships in the NHS and private healthcare sectors that provide support to staff and patients in healthcare facilities and in the wider community in pursuit of excellence for care of the sick and elderly, and the healthy in the community.
Partners in FM – Secure Facilities
This category is for partnerships in the military, custodial, police and other secure environments in which a range of support services are delivered to staff, residents and inmates in sensitive and potentially hazardous environments.
Partners in Workplace Change
This category is for partnerships between FM service providers, clients and/or suppliers to facilitate strategic business change, workplace relocation, interior design and innovative use of AV and technology solutions that transform workplace efficiency and business outcomes.
Partners in FM – Retail Facilities NEW FOR 2014
This new category recognises the growing role of service providers working in partnership with retailers for a varied range of FM support services in shopping centres, retail parks, the high street, transport hubs and airports, and in logistics and warehouse facilities.
Partners in Expert Services
This category is for partnerships between a public or private sector organisations and a supplier with specific skills, technical expertise or experience, such as FM consultancy, IT support, reprographics, software development, relocation management, logistics, etc
Partners in Expert Services IT
This category is for partnerships between FM support services providers, clients and IT specialists that require skilled staff and a high degree of integrity/trust with client data for software development through to management of secure data centre facilities.
Partners in FM – SME Organisations
This category is for partnerships between organisations for a range of support services that achieve the client's strategic business objectives, but where the client and/or facilities management provider are an SME* organisation,. (*EU Definition of SME: Employs less than 250 people, annual turnover is not over €50m and/or annual balance sheet total is not over €43m)
Facilities Technology Innovation Award NEW FOR 2014
This new category recognises the growing importance of technology solutions that lead to greater business efficiency. Working with support service and equipment suppliers, forward thinking clients can invest in leading edge audio visual, telecommunications systems and office technology solutions that gain business advantage.
Young Facilities Manager of the Year
This category highlights the considerable talents of the next generation of facilities managers that have made in impact early in their careers. Candidates should be nominated by their senior manager and be prepared to make a presentation to the judges.
Partnership Team Member Award
All finalists in the PFM Awards are invited to nominate one member of their facilities team who has demonstrated an exceptional contribution to the success of the partnership through their enthusiasm and effectiveness as an operative or supervisor of a small team of staff. Typically this person would not be in a management position but could be a cleaner, receptionist, maintenance engineer, etc.
The Peter Middup Lifetime Achievement in FM Award
This Award is for a property and facilities management professional who throughout his/her career has demonstrated best practice in fulfilling strategic business objectives through effective delivery of property and facilities management, and who has shown leadership in the facilities management community.
Overall Winner 2014
Winners of the 'Partners in' categories that have demonstrated excellence in all the judging criteria will be automatically considered for the Overall PFM Award.
In 2013, PTSG won the Partners in FM – SME Organisations award.
This year's awards awards will be held at the Brewery in London in November.