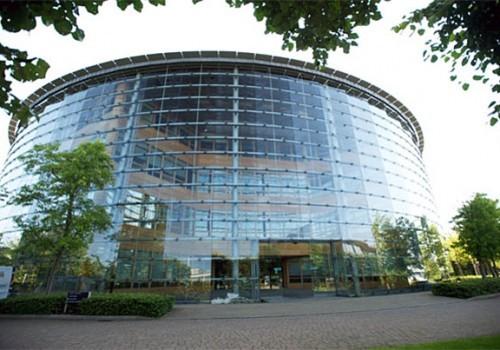 PTSG to deliver intricate maintenance works at Stockley Park offices
Premier Technical Services Group (PTSG) is to carry out a series of intricate maintenance works on an office development at Stockley Park.
PTSG's South Suspended Access division will supply and fit a new one man cradle to the internal skin wall of 4 The Square.
Scott Hawtrey, divisional director at PTSG, said: "There are some very tight areas inside the building and the design requires the works to be very precise otherwise the cradle won't operate correctly. Despite its name, the building is circular in shape so ensuring the equipment can move freely is vital."
The building provides high quality Grade A refurbished office accommodation within the most recently developed area of Stockley Park.
Set in a landscaped environment, its circular architecture provides an efficient open plan floor plate within an external single glazed skin creating a layer that protects from the elements whilst also acting as an insulating membrane, enhancing energy efficiency.
The building has recently undergone an extensive refurbishment, including a redesigned reception, upgraded common parts and toilet facilities and a brand new air conditioning system.
Stockley Park is a business estate located between Hayes and West Drayton in the London Borough of Hillingdon.
It is home to companies such as Apple Inc., Canon Inc., BP, Sharp Corporation, Marks and Spencer and GlaxoSmithKline.