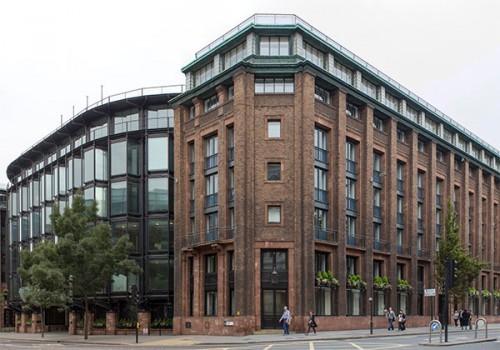 PTSG to complete works at former home of Financial Times
Premier Technical Services Group (PTSG) has been commissioned to deliver a series of works at Bracken House in London.
The group's South Suspended Access division has secured a contract to carry out the works on the former home of the Financial Times newspaper.
Scott Hawtrey, divisional director at PTSG, said: "One of our engineers visited the site and subsequently recommended that a diverter pulley system be fitted to prevent the cable going to one side of the reeling drum.
"He also recommended that the cable restraint eyes are positioned facing upwards which will help alleviate the problem as well as the existing diverter pulley be restricted in its movement to align the power cable in the centre of the reeling drum.
"Following these recommendations, we have been instructed us to complete the works."
Bracken House was built in the second half of the 1950s to house the Financial Times and named after Brendan Bracken (1901-1958), the former chairman of the paper.
In 1984, Pearson plc, the parent company of the Financial Times, acquired the freehold of the site from the Corporation of London. That was also the time when the big newspapers one by one moved east to London's Docklands as the Financial Times was to do
It then commissioned an architectural competition to replace the whole building, which was won by Hopkins Architects.
The original building was then listed, forcing a redesign – and at the same time sold to Obayashi. The original printing hall was demolished and replaced by new dealing floors.
This new doughnut-shaped volume is distinguished externally by the oriel windows supported on a new bronze external structure.
Internally, a new steel plate and glass block core, sitting within a central atrium, provides the main vertical circulation route. The original offices were gutted and refurbished.