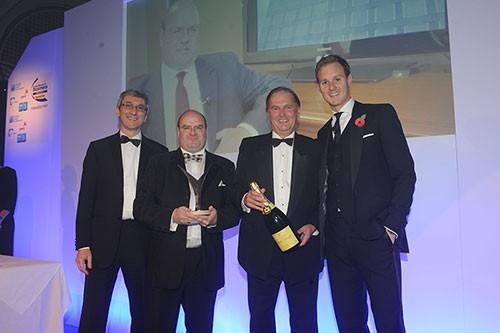 PTSG: The best in Yorkshire!
Premier Technical Services Group (PTSG) has been crowned as a leading Yorkshire business at a prestigious awards ceremony.
The company was named as Business of the Year in the £10m to £50m turnover category at the Yorkshire Post's Excellence in Business Awards – the region's most highly sought after business prize.
The award was given to Chief Executive Officer Paul Teasdale and Chairman John Foley at the glitzy ceremony at the Queens Hotel in Leeds last night (31 October 2013).
Hosted by the BBC Match of the Day's Dan Walker, the ceremony brought together the best in business from across the entire Yorkshire region.
Despite stiff competition, PTSG wowed the judges with its insatiable and unrelenting growth, plus the significant investment of time and money in streamlining business processes and procedures.
It was described as an unbelievable business, demonstrating traits of much larger, multi-million pound conglomerates which occupy the top spots in the global trading markets.
The judges said: "We are very impressed with PTSG's growth and how they have used technology to drive the business forward. PTSG's approach is more akin to a company that you would expect to see listed on the Stock Exchange."
The hard-fought category of companies with a turnover between £10m-£50m, sponsored by PwC, saw PTSG – which was formed in 2007 – competing against an 80-year-old power solutions firm from Scarborough and international supplier of corrugated packaging from Wetherby.
Paul Teasdale said: "A lot of people have worked incredibly hard to get us to this point, and we are only part-way through a longer plan which will see growth continue across the coming years.
"I'd like to thank the judges for recognising the hard work that every single employee of the business puts in every day, without the team of people who get what it is we are trying to achieve, none of the success we have had would have been possible.
"It was a fantastic event and I'd like to congratulate the businesses we were up against and all the others who were shortlisted or won."
The Yorkshire Post confirmed that they received more award submissions this year than at any time before, with hundreds of Yorkshire-based organisations taking the time to enter.