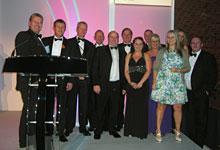 PTSG takes podium place at PFM Awards 2012
Premier Technical Services Group (PTSG) attended the annual PFM Awards as a finalist in the "Partners in FM – SME Organisations" category at the Brewery, London (EC1) on Wednesday 7th November 2012.
Having made the prestigious shortlist following a rigorous vetting process, PTSG was highly commended for its work and was recognised in the top three in the UK for its partnership working.
Paul Teasdale, group managing director, said: "I am very proud of what my team has achieved and how far we have progressed in such a short period of time. We were invited to submit an entry for the very first time this year and to be named as a finalist is a superb achievement. I would like to say a personal thank you to everyone involved in our work with Marks and Spencer, which has been described as a very strong partnership – indeed a perfect balance of talent! We are extremely proud to be a finalist in this prestigious annual event."
Attending the event on the night, and representing Marks and Spencer, were Jenni Harcombe and Paul Jenkins, PPM and Compliance Support Managers. Jenni and Paul oversee PTSG's work with Marks and Spencer. On behalf of PTSG were Paul Teasdale, John Foley, Paul Evans, Mark Davison, Scott Hawtrey, Andrew Dack, Sally Bedford, Simon Taylor, Sarah Steel and Amanda Snook.
We look forward to being up there amongst the winners again next year!