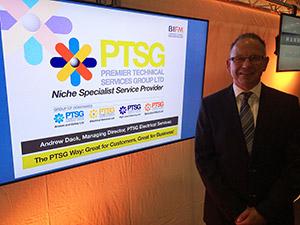 PTSG Shares Customer Service Experiences at BIFM Knowledge Event
PTSG Electrical Services' managing director, Andrew Dack, gave a presentation today (19 June 2014) at a national FM conference.
The Facilities Show, 17-19 June, was held at the ExCeL in London and PTSG was asked to talk about the work that it has done from a customer service perspective following the company's recent national awards for collaborative working.
Andrew took the audience through PTSG's journey, detailing the company's customer-centred culture, described as: 'the thing that really makes our business stand-out'.
Andrew talked about how great customer service is great for business and the lengths that PTSG goes to to deliver to the best of its ability at every level of the organisation. "Everything we do is based on delivering what our customers want, need and quite rightly expect, said Andrew."
Deborah Gainey, a delegate who attended Andrew's session in the BIFM Knowledge area, said: "Blimey, these guys really have got it right. I learnt so much from Andrew's talk and really enjoyed learning about the PTSG way. They are an innovative business which, on the face of it, really makes a positive difference. I am grateful to Andrew for sharing his insight and knowledge. I'll certainly be taking some of my learning back into my workplace."
For those people who missed the presentation, it can be viewed by clicking in the thumbnail below.