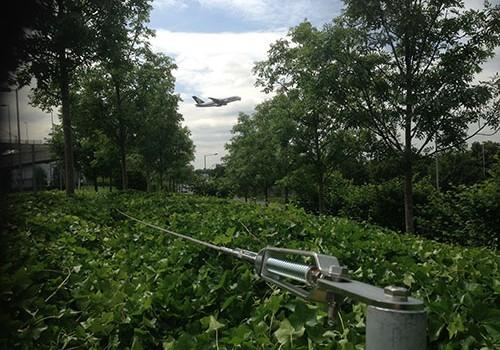 PTSG secures major contract for safety works at Heathrow Airport
Premier Technical Services Group Ltd. has completed works at Heathrow Airport to provide safe working systems for maintenance workers on the T5 Perimeter Road – the main road leading into the airport.
Due to the height of the banking on the edge of the road, there was an urgent requirement for a system (or systems) to ensure the safety of maintenance workers, such as landscape gardeners.
The original enquiry from Mitie was to test and certify four safety (man-safe) systems on the T5 Perimeter Road. A visit from PTSG specialists showed that all safety systems in place at the time were inadequate. It was recommended that these systems should be upgraded to provide an optimum level of safety.
The visit also highlighted the need for an additional system to cover an area with no fall protection in place. Overall, the 26 man-safe systems on the perimeter road were identified as insufficient and it was recommended these should be modified to six large continuous systems.
Having carried out the work to PTSG's trademark standards of efficiency, Mitie requested a further 415 metres of man-safe boundary to be installed to another section of the perimeter road, in order to secure the safety of maintenance workers at all times.
Paul Evans, Divisional Director – Fall Arrest Testing, Said: "PTSG were able to apply our expertise in order to identify exactly what was required to provide a first-class level of safety along the T5 Perimeter Road at Heathrow. The quality of the work carried out led immediately to further requests for our services from the client. What better endorsement of PTSG's Access and Safety division?"