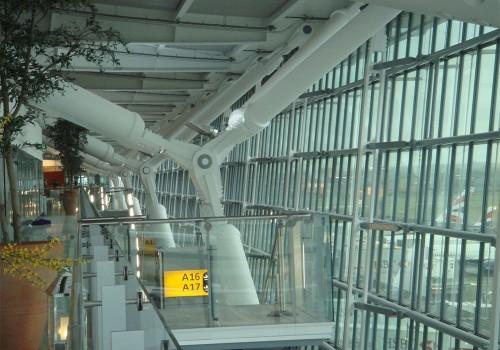 PTSG secures further works at London's Heathrow Airport
Premier Technical Services Group (PTSG) is to carryout works at two of Heathrow Airport's five terminals.
PTSG's South Suspended Access division has been contracted by outsourcing company MITIE to complete a series of repairs at Terminal 3 and Terminal 4.
The contracts follow PTSG's works at the airport earlier this year to provide safe working systems for maintenance works on the Terminal 5 perimeter road.
This is the main road leading into the airport. Due to the height of the banking on the edge of the road, there was an urgent requirement for a system (or systems) to ensure the safety of maintenance workers, such as landscape gardeners.
Scott Hawtrey, divisional director at PTSG, said: "Securing further works to work on a facility like Heathrow Airport is great news for PTSG and the team. It is an iconic airport and one that we are proud to be associated with.
"At Terminal 3, we have been asked to paint and treat the trolley system and at Terminal 4, the works consists of replacing a series of nuts, bolts and fixings. The airport is extremely busy so it is vital our works do not disturb passengers or staff."
Heathrow is a major international airport and is the third busiest in the world (from 2013-14), handling more international passengers than any other airport around the globe.
The airport, which is owned and operated by Heathrow Airport Holdings, sustains 76,600 jobs directly and around 116,000 indirectly.