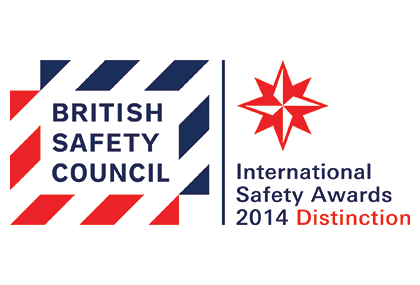 PTSG recognised with distinction at British Safety Council awards
Premier Technical Services Group (PTSG) has been recognised with distinction in the British Safety Council's International Safety Awards 2014.
The national awards are designed to recognise companies that have achieved industry standard levels of safety and place them in one of four levels – distinction, merit, pass and fail.
A total of 550 applications were received for the awards in 2014 with 93 per cent of the applications successfully achieving a pass grade or higher.
Grading distribution among the applications:
Distinction: 43 (8%)
Merit: 328 (60%)
Pass: 138 (25%)
Fail: 41 (7%)
Bases on this distribution, PTSG was one of only 43 companies that applied to the awards to receive a distinction.
Paul Teasdale, CEO at PTSG, said: "To be recognised in the top eight per cent of entries is a fantastic achievement and one that is down to the hard work and attention to detail of our teams.
"We are extremely focused on ensuring the safety of both our staff and our clients when carrying out works, as you would expect. We carry out works on a huge range of buildings and structures with many of them being carried out at height.
"The expertise, knowledge and experience of our teams allow us to deliver complex jobs while maintaining our high levels of safety."
The International Safety Awards scheme, now in its 56th year, is open to UK and international organisations of all sizes across all industries and seeks to promote high standards of health and safety management practice in order to prevent workplace injury and ill health.
The winning organisations span all sectors from the United Kingdom, Africa, Asia, the Middle East and the West Indies. This long-established award has this year been won by more than 500 organisations.
Alex Botha, Chief Executive of the British Safety Council, congratulated PTSG on its success.
"On behalf of the Trustees and staff of the British Safety Council we warmly congratulate PTSG and its employees on gaining an International Safety Award with distinction, he said.
"All of those working at PTSG have made this award possible which recognises their dedication and commitment in preventing injury and ill health in the workplace. It was also apparent that applicants recognise that getting health and safety right is a business enabler.
"The success criteria for our International Safety Awards is challenging and that rightly reflects the importance of ensuring the risks of injury and ill health in the workplace are properly controlled. Awards have an important part to play in driving improvements in health and safety management year on year. PTSG should be rightly proud of their achievement. We are proud of our association with PTSG and their commitment to keeping their employees and workplaces healthy and safe."