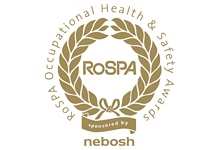 PTSG receives another high-profile safety award
Premier Technical Services Group (PTSG) has been given a prestigious Gold award by the Royal Society for the Prevention of Accidents (RoSPA).
The RoSPA Gold Award for Occupational Health and Safety was awarded after a stringent and detailed nomination process as part of the wider RoSPA Safety Awards.
Now in its 57th year, the RoSPA Safety Awards recognise health and safety success and offer organisations a prime opportunity to prove their on-going commitment to raising health and safety standards.
Sponsored by NEBOSH, the premier health and safety examining body, the awards are open to organisations of all sizes, from the full spectrum of work activities and from all over the world.
PTSG's chief executive Paul Teasdale said: "This further demonstrates our commitment to driving our business forward but continuing to do so with an exemplary health and safety record.
"We are continually reviewing our processes and procedures to make sure what we do is safe for our people, our clients and the general public.
"We won't do anything if we cannot do it safely."
PTSG is the only company of its kind in its sector to have a full time Health, Safety and Environment Manager. Terry Wilcock has worked tirelessly to help deliver a plethora of awards and more than 50 professional accreditations for PTSG's work in the last two years.
The RoSPA Occupational Health and Safety Award is a competitive sector which recognises the organisations that have demonstrated the best health and safety management performance.
Entrants must demonstrate a consistently excellent and continuously improving performance and ideally provide evidence of a particular initiative or innovative approach.
This latest recognition comes only weeks after PTSG was given the International Safety Award from the British Safety Council.
PTSG supplies highly engineered industrial products and quality services with a substantial presence in a number of focused niche markets.
PTSG is the parent company of PTSG Access and Safety, PTSG Electrical Services, PTSG High-level Cleaning and PTSG Specialist M&E.
The group company provides a central information service for the business and champions the dissemination of key information and best practice. PTSG unites the company's constituent businesses under one clear identity to support the broader use of smarter working as a modern day approach to delivering a top class service for the people it serves.