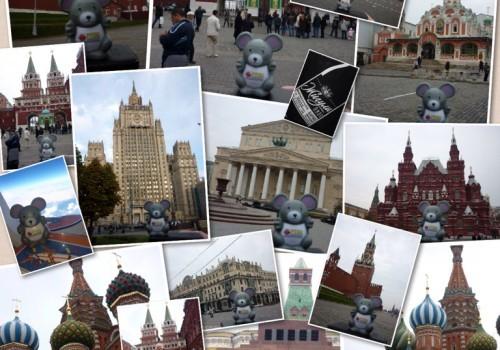 PTSG Mascot is the Big Cheese on a 'MOUSECOW' Tour
Premier Technical Services Group's (PTSG's) mascot, MOUSE (Memorable, Outstanding, Unique, Service, Experience), certainly gets about a bit. Last week the loveable, squishy rodent took some much deserved time away from the busy PTSG office to visit some of Russia's best known landmarks along with PTSG's Technical Director at Test Strike, John Warren.
MOUSE serves as PTSG's internal conscience, a permanent reminder about why PTSG exists and the importance of getting customer service right – first time, every time. As PTSG's mascot, he certainly brings the team luck and is fast becoming recognised worldwide as part of the company's public identity.
PTSG's Group CEO, Paul Teasdale, said: "It's great that our people have embraced MOUSE and all that it stands for – even taking their own mascots away on holiday with them. Every month we get pictures back from all over the world and we even have pictures of MOUSE deep sea diving.
"PTSG People know that delivering excellent customer service is what enables us to do more as a business. Great customer service often equates to repeat purchase and new business which in turn results in greater job security and internal promotion opportunities. MOUSE, which has become an important part of the PTSG internal family, serves as a constant reminder to our people that the better the service we deliver, the stronger we grow together.
"I look forward to seeing where MOUSE will turn up next."
For more information about MOUSE and the services delivered by PTSG, please get in touch. It would be great to squeak to you!!