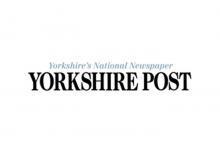 PTSG makes Yorkshire Post shortlist for third consecutive year
The Yorkshire Post has revealed the finalists for the Excellence in Business Awards 2013 and we are delighted to announce that we have made the shortlist once again. This year, we have moved up a category sitting alongside companies with a turnover between £10m and £50m.
Premier Technical Services Group Ltd (PTSG) Chief Executive, Paul Teasdale, said: "This is fantastic news and is testament to the hard work and determination of our team here at PTSG. We employ the best in the business and that is certainly reflected in our growth and the independent endorsements we continue to receive for our work.
The news follows our rebrand in the summer, which saw the business organised into four clear and distinct business units: PTSG Access and Safety, PTSG Electrical Services, PTSG High Level Cleaning and PTSG Mechanical and Electrical. All are supported from a management and administrational perspective by PTSG, the group company that provides a central information service for the business and champions the dissemination of key information and best practice. PTSG unites the company's constituent businesses under one clear identity to support the broader use of smarter working as a modern day approach to delivering a top class service for the people we serve.
The winners will be announced at an awards ceremony at the Queens Hotel in Leeds on Thursday 31 October 2013.
The Secretary of State for Transport, Patrick McLoughlin, is scheduled to be the keynote speakers and Dan Walker, BBC Sports commentator, will be the Master of Ceremonies.