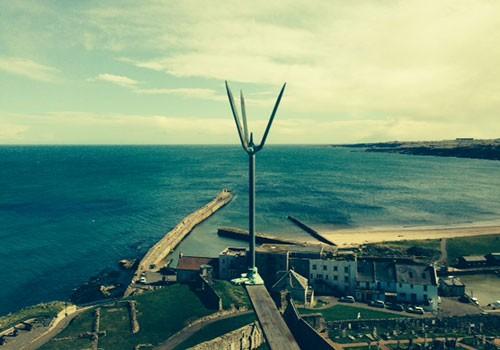 PTSG engineers see Scotland from a different angle
Premier Technical Services Group PLC (PTSG) engineers have experienced yet more breathtaking views while working on some of Scotland's most iconic buildings.
These photographs show just some of the views the engineers have experienced at St Andrews Cathedral, Corgarff Castle, Castle Campbell, Castle Nuntley, Elgin Cathedral and Dunkeld Cathedral.
These latest views come after engineers completed works on the equally impressive Glasgow Cathedral.
PTSG's Electrical Services division has been contracted by Historic Scotland via Carilion to carry out annual inspections and testing of lightning protection systems at 37 properties across the country as well as any remedial works needed.
All of the 37 locations are listed buildings, ranging from churches and cathedrals to castles and monuments. A full list of the sites is below.
Balvenie Castle – Dufftown, Moray
Castle Huntly Huntly – Aberdeenshire
Corgarff Castle – Corgarff, Strathdon
Duff House – Banff, Banffshire
Kildrummy Castle – Kildrummy, Alford
Kinnaird Head Castle – Terrace, Fraserburgh
Tarves By Ellon – Aberdeenshire
Arbroath Abbey – Arbroath
Brechin Round Tower – Brechin
Broughty Barracks/Castle – Dundee, Angus
Restenneth Priory – Forfar
Argyll's Lodging Castle – Wynd, Stirling
Castle Campbell – Dollar
Clackmannan Tower – High Street, Clackmannanshire
Doune Castle – Doune, Perthshire
Dunblane Cathedral – The Cross, Dunblane
Scotstarvit Tower – Ceres, Cupar, Fife
Stirling Castle – The Esplanade, Stirling
Elgin Cathedral – Bishops House, Elgin
Beauly Priory – Beauly, Inverness
Dallas Dhu Distillery – Mannchie Road, Forres
Fortrose Cathedral – Cathedral Square, Fortrose
Spynie Palace – Elgin, Moray
Suenos Stone – Findhorn Road, Forres
Urquhart Castle – Drumnadrochit
Dunfermline Abbey – Dunfermline
St Andrews Castle – St Andrews
St Andrews Cathedral – St Andrews
Dunkeld Cathedral – Cathedral Street, Dunkeld, Perthshire
Elcho Castle – Rhynd, Perth
Muthill Church & Tower – Station Road, The Wynd, Crieff, Perthshire
Stanley Mills – Mill Road, Stanley, Perthshire
The Round Tower – Main Street, Abernethy, Perth
Dundrennan Abbey – Dundrennan, Kirkcudbright
Glasgow Cathedral – Cathedral Square, Glasgow
Linlithgow Palace – Kirkgate, Linlithgow
Longmore House – Salisbury Place, Edinburgh
Historic Scotland is an agency within the Scottish Government and is directly responsible to Scottish Ministers for safeguarding the nation's historic environment, and promoting its understanding and enjoyment.