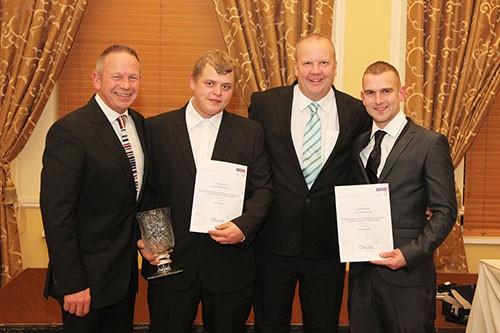 PTSG Electrical Services Supports Apprentices at SLPTG Annual Awards
PTSG was delighted to be a Gold sponsor at The Steeplejack and Lightning Protection Training Group (SLPTG) Apprentice Awards in December.
The awards, which recognise the achievements of apprentices in the sector, were presented at the National Construction College (NCC) – East on 12 December 2013.
There were 12 awards chosen by NCC instructors, including Best Academic Achievement and Best Technical Application (Lightning Conductor).
Following recent reports of a potential skills shortage in the specialist sector, the annual Apprentice Awards Dinner was a unique opportunity to celebrate apprentices who had successfully completed their NVQ Level 2 in steeple-jacking or lightning conductor engineering by presenting them with their NVQ certificates.
Apprentices and their employers who attended the event were addressed by guest speaker Chris Barrett, Head of Vocational Services at NCC, and Master of Ceremonies Mike Fuller, a specialist advisor to the industry. The event also welcomed industry professionals and training providers ahead of the main NCC ceremony in July and the evening was a fantastic demonstration of the sector's commitment to the training and development of the workforce.
Andrew Dack, Managing Director of PTSG Electrical Services, said: "We were honoured and proud to be given the opportunity to be a Gold sponsor at the 2013 SLPTG awards. On behalf of PTSG, I would like to congratulate all of the apprentices who completed their training and especially those who won an award. I would like to pay particular tribute to our own Andrew Sadler and Daniel Clarke who are proving to be very industrious and popular members of the team.
"PTSG fully supports the training and qualification of operatives and apprenticeships and that is why we always get behind the SLPTG Apprenticeship Awards.
"Our own apprentices have won a number of the top categories at these awards in previous years."
PTSG Electrical Services is a leading supplier of PAT testing, fixed wire testing, and lightning and surge protection services across the UK.