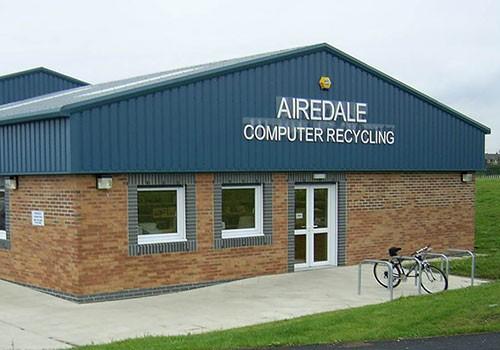 PTSG donates IT equipment to organisation working to tackle unemployment
Premier Technical Services Group PLC (PTSG) has teamed up with an award-winning social enterprise to get unemployed people back into work.
PTSG has donated around 16 computers, screens and printers to Castleford-based Airedale Computers, an organisation which retrains long-term unemployed people and returns them into the job market.
The unusable equipment was dismantled in-house by Airedale's job centre and DWP work placement volunteers into component waste streams which can then be sold as raw materials. The volunteers are long-term unemployed and Airedale secures them a work record, real work experience and a reference to enable them to be in a better position in the job market.
Tim Kemp, IT director at PTSG, said: "Airedale Computers are a fantastic organisation that supports people looking to get back into work as well as young people looking to develop their skill sets.
All profits from its endeavours are given to its charity Chrysalis Youth & Community Project which runs THE HUT in Airedale, a fantastic community and sports facility run for the benefit of the local communities.
"We are delighted to be working with Airedale and look forward to continue our strong relationship. PTSG is committed to ensuring as much of our waste is recycled and it is great to see our old equipment being put to good use."
Some of the equipment was also refurbished by Airedale's apprentices and technicians for low cost sale in its three computer retail shops.
Computers are also given free of charge to good causes such as scouts, cubs, sea and air cadets and for fundraising for charities and voluntary groups.
Keith Sorrell, development manager at Airedale Computers, said: "In February Airedale Computers was called to PTSG to remove its excess IT equipment – 495kg in total.
"All of the equipment was logged into our database and hard drives containing sensitive data were removed and shredded for security. Often for hard drives with less sensitive data these are sanitised which overwrites every sector with zeros and ones, enabling us to reuse the drive.
"PTSG recieved an electronic copy of the transfer note, asset trail and shredding log together with our thanks for supporting our charity. We are extremely grateful for PTSG's support and look forward to hopefully working together again in the future."
Airedale's apprentices spend one year working alongside a technician and also gain a level 3 IT qualification plus one or two industry qualifications such as Microsoft Professional or Cisco Networking. They are usually head hunted by a major computer company at the end of their apprenticeship.
It makes work experience placements available to all local schools as well as voluntary placements for college students to do practical work to go along with their studies. Airedale gets visitors from all over the world who come to see a successful social enterprise in action and operates Zero Waste, No Landfill, No Export policies to keep its operations as environmentally friendly as possible.