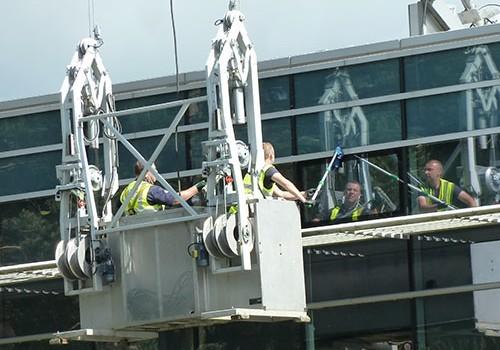 PTSG divisions join forces to deliver refurbishment works in Aldershot
Premier Technical Services Group (PTSG) has undertaken a series of works at CSC Royal Pavilion in Aldershot.
Teams from the group's Access & Safety division and its High Level Cleaning division are working together to deliver the works, which started on Monday, June 2 and are expected to be completed on Tuesday, June 13.
PTSG's works on the site include rope access works, window and cladding cleaning and jet washing.


The cradle works involved a retrofit of new winches and bracket design, In order to comply with current legislation, these works alone took more than eight weeks to complete and had to be completed prior to the high level cleaning. The Access & Safety engineers then started the training for the cleaning team to familiarise them with this very bespoke cradle system.
Monday and Tuesday saw the High Level Cleaning division's team complete cleaning from the buildings cradles before being joined on site by the Access & Safety team.
Ray Perrotte, managing director of PTSG High Level Cleaning, said: "By having two of our divisions working together is providing a fantastic platform to deliver the works effectively and efficiently. The benefit to the client is that they avoid having to pay the annual training costs which, over the term of a contract, can save thousands of pounds.