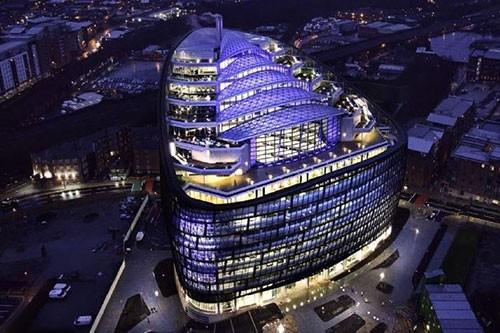 PTSG completes testing at world's most environmentally friendly building
Premier Technical Services Group (PTSG) has completed a series of equipment tests at the Co-operative Group's headquarters in Manchester.
The £100m headquarters in Angel Square was officially opened by the Queen last year.
PTSG's works included testing mansafes, abseil points, climb latches and specialist ladder safe systems.
Paul Evans, Divisional Director of Fall Arrest Testing, said: "This is the first time we have completed this job. We have also supplied the Co-op with full PPE kits from London to Copenhagen.
"It was a fantastic opportunity for us to work on such a modern and iconic building and one that I'm sure the team will look back on fondly.
"Our expertise in carrying out works on high-rise buildings is second to none but, even with our vast experience, working on buildings like One Angel Square is a great coup and we look forward to hopefully working on it again in the future."
Last year, One Angel Square was declared the most environmentally friendly building in the world after achieving the highest ever eco rating for a building by BREEAM, the industry environmental assessment experts.
The eco-friendly features of the building includes power generated from crops grown on the group's farms; the building has a rainwater harvesting and recycling system, a heat recovery system to collect and recycle waste heat, and 300,000 square feet of exposed concrete that acts as a thermal sponge.
The building is part of phase one of NOMA, a £800m scheme to redevelop 20 acres of the northern part of Manchester city centre. The 10-year programme will create a mixed use district, incorporating office space, residential, and leisure facilities.