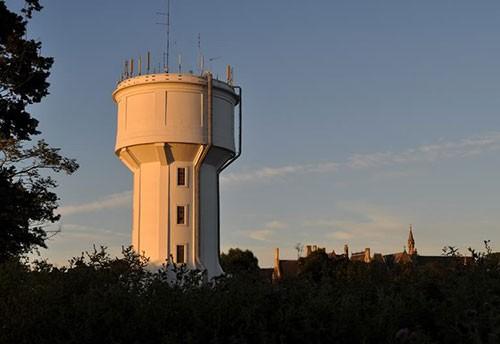 PTSG completes lightning protection works at historic Canterbury water tower
Premier Technical Services Group (PTSG) has undertaken a project to provide the historic St Thomas Water Tower in Canterbury with vital lightning protection.
Built in 1928 by Holland & Hannen and Cubbitts Ltd. of Holborn, the tower was opened by Silas Williams in 1928. He was chairman if Canterbury Gas and Water Company. In the grounds of the tower is a part submerged reservoir.
The property was bought at auction by Mid Kent Water in 2004 and is now partly used as a mobile phone mast. Due to its height above ground, this imposing structure is at risk from lightning strikes and work by PTSG will help to keep it safe and preserve its future.
Paul Teasdale, CEO at PTSG, said: "Any structure over five metres tall carries a risk from lightning. We are delighted to have secured the contract to provide regulations-compliant lightning protection and electrical earthing for the St Thomas Water Tower.
"This structure is of considerable architectural importance. PTSG Electrical Services is the UK market leader in the design, installation and testing of lightning protection and earthing systems. We have a wealth of experience in this field and are privileged to add this project to our growing portfolio of successes."