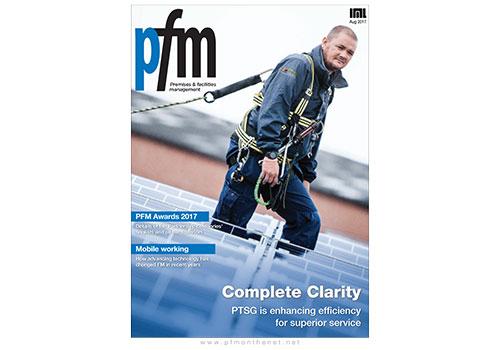 PTSG Clarity takes front-page spot in PFM Magazine
Premier Technical Services Group PLC (PTSG) features on the front cover of August's PFM magazine, with a double-page spread dedicated to the company's innovative Clarity system.
The system is made up of four key components: ClarityOFFICE, ClarityPEOPLE, ClarityWORK and ClarityPORTAL. Each element of the system is designed with the specific requirements of individual departments in mind, ensuring that everyone at PTSG, including the administrative team, business development managers and on-site engineers are all able to do their jobs more efficiently.
Clarity has been integrated into the business over the last year, and has already processed over two million audited transactions, generating over 30,000 documents. The article covers the benefits the bespoke programme has brought to the Group and its clients, greatly speeding up its processes and creating unbeatable efficiency, more intelligent scheduling and greater levels of safety for engineers.
This isn't the first time PFM has covered PTSG's innovative and value-adding Clarity system. In October 2016, the magazine took an in-depth look at the system, detailing the individual aspects of Clarity that make it so effective, giving PTSG's engineers everything they need to do their job safely and efficiently.
To view the article in August's PFM Magazine, click here.