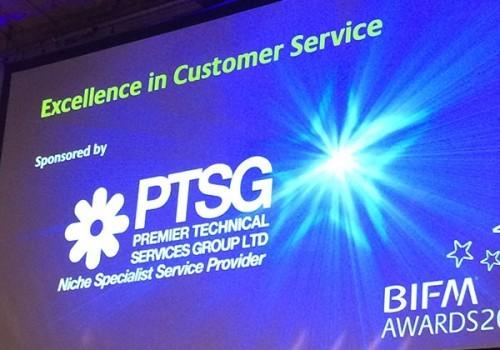 PTSG CEO praises BIFM awards winners
Premier Technical Services Group (PTSG) CEO Paul Teasdale has praised all award winners following last night's glittering British Institute of Facilities Management (BIFM) awards ceremony in London.
PTSG sponsored this year's Excellence in Customer Service award, which was won by Edge Hill University, and was quick to recognise the important role the awards play in highlighting excellence in the industry.
Paul presented the award at the Grovesnor alongside comedian and actor Hugh Dennis.
"I would like to congratulate all award winners, especially Edge Hill University which was named the winner in the Excellence in Customer Service category, and thank BIFM for hosting a fantastic event," Paul said.
"The awards are a perfect platform to promote excellence in the industry and highlight the exceptional work that occurs on a daily basis. The turnout at the ceremony shows just how well regarded the BIFM awards are and PTSG was delighted to be able to sponsor them this year."
PTSG was named a 'Platinum' Supporter of BIFM earlier this year. BIFM recognises 'Platinum' Supporters as those organisations which, through sponsorship and engagement activities, support the work of the Institute.
Please see below for a full list of award winners.
Excellence in Customer Service
Winner: Edge Hill University, Facilities Management; Welcome Sunday
Highly Commended: Cofely & Salford Royal NHS Foundation Trust; Cofely Security Team at Salford Royal NHS Foundation Trust
Excellence in Product Development
Winner: J+J Flooring Group; Kinetex
Highly Commended: Carillion Plc; Asset Integrity Framework
FM Excellence in a Major Project
Winner: King's College London and Bouygues Energies & Services; Public Private Partnership Efficiency Review
Highly Commended: ISS and Barclays; Project Unity
FM of the Year
Winner: Chris Newton; Mitie
FM Service Provider of the Year (SME)
Winner: Premier Workplace Services; Business Class Moves and Change Service
Highly Commended: Swiftclean Building Services
Impact on Organisation and Workplace
Winner: Three; Every Day Wonderful
In-House FM Team of the Year
Winner: Tesco Maintenance & Energy; Tesco Maintenance Format Teams
Highly Commended: Land Registry
Innovation in the Use of Technology and Systems
Winner: Integral Uptimeplus
Highly Commended: PHS Group; The Sales Lead Ap
Large FM Service Provider of the Year
Learning and Career Development
Winner: FES FM; Committed to Knowledge and Skills Development
Highly Commended: JLL; The JLL Property and Asset Management Academy
Lifetime Achievement Award
Winner: Christopher Stoddart
Profound Impact
Winner: ISS UK and Ireland; Employability: Providing opportunities today for the talent of tomorrow
Highly Commended: Cofely & London Legacy Development Corporation; Queen Elizabeth Olympic Park, London
Rising Talent in Facilities Management
Winner: Mark Leighton; Cofely
Highly Commended: Andrew Hulbert; Pareto Facilities Management Ltd
Sustainability and Environmental Impact
Winner: Cheshire Constabulary; Operation Cleanup
Highly Commended: Premier Workplace Services; Premier Sustain – Business Class Sustainable Services