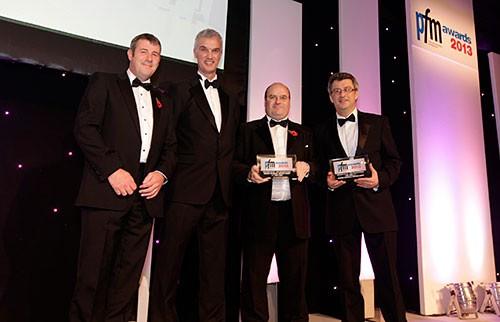 Premises and Facilities Management Award for PTSG with Tube Lines
Premier Technical Services Group (PTSG) has received a national industry award for its premises and facilities management work in partnership with Tube Lines, now part of London Underground.
The companies won the top prize at the Premises and Facilities Management Awards 2013 in the Partners in Facilities Management (FM) category. The event took place at the Old Brewery in London on 06 November.
The organisations were jointly recognised for their collaborative approach to maintaining access and safety equipment, including eye bolts, monorails, ladders, lights, gantries, cradles and beams, on three of the four busiest tube lines in London.
The judges were said to be: 'impressed with how the companies worked together to keep people safe and on the move on one of the busiest and most complex rail networks in the world'.
The news follows last week's announcement by the Yorkshire Post, where PTSG won the top award in Yorkshire for businesses with a turnover between £10m and £50m.
PTSG CEO, Paul Teasdale, said: "What an incredible week. First the Yorkshire Post Business Awards acknowledged our growth and strength as a business and our ambitious plans for the future. Now the industry has recognised us for the standard of service we deliver. It's testament to the hard work and determination of my whole team, who put all of their work-life efforts into delivering outstanding customer service. These awards are down to them.
"I would also like to pay tribute to Simon Pateman, Jonathan MacGillivray and the wider team at Tube Lines. They put their trust in us and together we have been able to deliver consistently well for Transport for London and the travelling public. We have many similar examples of collaborative working arrangements with other customers; however, it is fantastic that this very special relationship has been recognised on a national stage."
Simon Pateman, Stations Manager at Tube Lines, said: "This is a great result. We have a very strong relationship with PTSG, which is reflected in our 'light touch' audit approach. There is complete trust between us and to all intents and purposes we are 'as one' in all that we do. We see PTSG as an extension to our team. We deliver consistently well and we grow stronger by the day together. Consequently we innovate and create greater value, which is very different from the traditional customer, contractor relationship."
Both organisations feel that this is a special relationship – one that is based on mutual respect and trust which makes a hugely positive difference to both businesses. It is described as the perfect partnership by senior executives, contract managers and the team who work collaboratively on the ground.
PTSG was shortlisted in the same category in 2012 for its work with M&S.