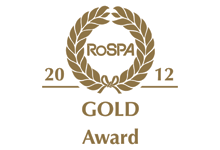 PTSG Access and Safety picks up second health and safety gong
PTSG Access and Safety's commitment to health and safety has been recognised for the second time in as many weeks.
The firm has been given a Gold Award for Occupational Health and Safety from the Royal Society for the Prevention of Accidents (RoSPA).
The acknowledgement comes hot on the heels of a Merit award in the annual International Safety Awards run by the British Safety Council (BSC).
Paul Teasdale, Managing Director of PTSG, said: "This shows that we are committed to adhering to the most stringent of health and safety practices all the time – it's not a one off.
"Everyone here works hard to ensure we work in the safest possible environment to protect our staff and our clients. This award recognises that hard work but also demonstrates we are trusted and reliable in the work we do."
A representative from the firm will pick up the award at the 2012 RoSPA Occupational Health and Safety Awards at the Hilton Birmingham Metropole hotel in May.