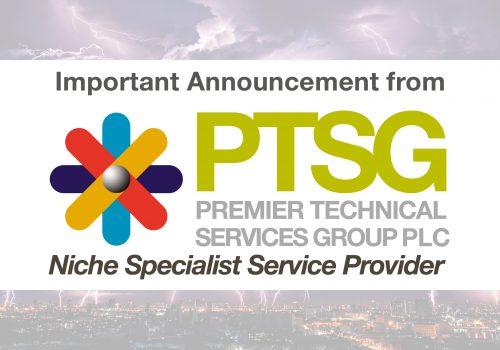 Premier Technical Services Group Plc Acquires 'BEST' Brooke Edgeley (Industrial Chimneys) Ltd.
Premier Technical Services Group Plc (PTSG) is delighted to announce the acquisition of BEST a market leading lightning protection and steeplejack company based in Manchester.
Paul Teasdale, Group CEO advised "We are very pleased to welcome BEST, a long established and respected lightning protection and steeplejack business with a significant national presence, to the PTSG group of companies. The highly complementary acquisition provides us with significantly increased geographic coverage, scale in installation activities and additional capabilities with an attractive testing and inspection base, all of which will enhance our market leading offering."
Information on BEST
Established in 1957, BEST is a privately-owned market leading company in lightning protection, specialist earthing, surge protection and steeplejack services.
BEST is a national provider with four office locations in Manchester, Kidderminster, Chelmsford and Wishaw, Scotland with c.160 engineers and staff. It has well established and has good relationships with Blue Chip clients including Balfour Beatty, Engie, Jaguar Landrover, Tesco, John Laing and Interserve and over 2,200 customers.
BEST has a long track record of achieving strong growth rates, with revenue increasing by 12% per annum since 2014 and profit before tax by 18% per annum over the same period. Its unaudited revenue for the year ended 5 April 2017 was £10.5m, producing an EBITDA of £2.3m and profit before tax of £2.1m. It is a highly cash generative business, achieving 104% cash conversion in 2016 and has maintained attractive EBIT margins of c.20%, in line with the PTSG group average. The unaudited net assets at 5 April 2017 were £3.2m.
BEST's current owners, including David Roberts, Colin Clinkard and Ian Savory plus five other members of the management team, will remain in the business to grow and expand its operations, which will be integrated into PTSG's Electrical Services Division.
Acquisition rationale
The acquisition substantially enhances PTSG's leading position in the Lightning Protection market, and follows the Company's stated strategy to be the market leader in its chosen areas of operation. BEST provides complementary geographical coverage to PTSG's existing operations, with a strong presence in Scotland and the West of the UK. The acquisition also adds scale to PTSG's Lightning Protection, Test & Inspection and Steeplejack services.
The acquisition will also bring multiple cross-selling opportunities though enhanced exposure to existing clients, bringing new clients to the Group and through an increased service offering with the addition of Specialist Earthing and Surge Protection services. Furthermore, it will enable PTSG to leverage its differentiated operating model which will drive further sales, operational efficiencies and further the effectiveness of PTSG's repair model and sustainability achieved through its customers' long term renewals.
We wish BEST a warm welcome into the group of companies and look forward to working with them in the future.