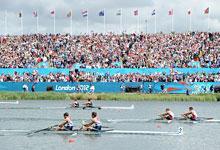 Lightning Response Secures Gold at London 2012
Following the successful installations of lightning protection systems across London to support the 2012 Games, PTSG Electrical Services has received a glowing commendation from event organisers.
Recognised as lightning protection experts, the team at PTSG were delighted to receive such a glowing reference for the work they delivered in the summer. In a letter from Alexia Albon, she said:
"I wanted to take the opportunity to say a very big thank you for your help delivering the earthing and lightning protection requirements at the London 2012 Olympic and Paralympic Games. I have received numerous accounts of how the professionalism and proactive attitude of your engineers helped us bring our venues over the line. In particular the team at Eton Dorney have asked me to pass on their special thanks.
In my capacity as LOCOG Contract Manager for Technical Services, I wouldn't hesitate recommending PTSG Electrical Services for future projects. You have a very good reputation throughout LOCOG and I very much hope this leads you to new business.
Thank you for being a pleasure to work with and for making this contract very easy to manage! I only hope in my next role I find such wonderful suppliers."
Group managing director, Paul Teasdale, said: "We are grateful for such a glowing reference. We have a fantastic team at Thor and more widely across our group of businesses. It's great to hear the views of another satisfied customer."
Projects that Thor delivered include works at: Eton Dorney (pictured), Greenwich and Hampton Court.
(Image above: August 3, 2012 – Source: Harry How/Getty Images Europe)