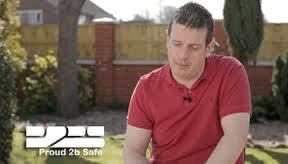 Jason Anker's Story Has Profound Effect
A group of technicians from PTSG recently experienced a "life-changing" health and safety talk from internationally acclaimed speaker, Jason Anker.
Jason delivered his powerful presentation about the dangers of cutting corners at work to 15 technicians from PTSG's Access and Safety division – speaking first hand of the devastating consequences of an accident on a building site which left him paralysed.
Jason's compelling story demonstrates the effect of the accident on his life, his friends and family, and the financial and emotional costs which forced him turn to drink and drugs.
It's 20 years since Jason's accident but it is only recently that he has learned to deal with the trauma.
Paul Evans, a director at PTSG, said: "The talk was really very powerful and it had a really profound effect on the team. Jason story is life-changing, it makes you think, it makes you look at everything you do to make sure you are 100 per cent nailed on for working safely.
"We pride ourselves on our safety record and our safe working systems, but to hear first-hand the devastating effects of not doing things properly really drives the message home.
"The team was sombre for some time after the event. We'll certainly look to bring Jason in again to reinforce these key messages and to drive further our commitment to exceptional levels of behavioural safety across our business."
Jason tells the tale of when he fell just 10ft as a result of not bothering to tie a ladder which would have taken just seconds. It was January 3, 1993, his first day back after Christmas, and Jason had a late job preparing a flat roof.
A workmate was footing the ladder but as Jason reached the bottom rung he walked away, leaving it unmanned. Jason was called back up to fetch tools and, as he came down for a second time, the ladder slipped.
Falling into a gap between two buildings, he quickly realised he couldn't feel his legs. Later at hospital it was revealed he was paralysed from the waist down after fracturing his vertebrae. He was 24 at the time.
His life then spiralled out of control, he lost his wife and children, his home and turned to drugs and alcohol. However, in recent years he has turned his life around and become one of the country's foremost advocate of safe working practices – telling the human side behind the devastating effects of getting it wrong.
Jason said: "You can choose to do things safely or you do it because you have to. Health and safety has a bad image because people presume it's about rules and restrictions but at the end of the day it's about saving lives and preventing accidents at work."
PTSG is one of the only companies of its kind in the UK to employ a full time Health and Safety team, which includes a Health and Safety Manager responsible for ensuring all systems and processes comply with strict UK guidance.