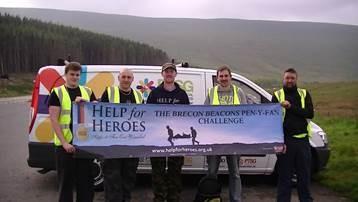 Help for Heroes charity trek supported by PTSG
Premier Technical Services Group (PTSG) has helped five friends raise more than £2,500 for charity Help for Heroes.
Event organiser Damien Bethall, along with his teammates Stepan Dewar, Michael Beech, David Smith and James Taylor, completed a gruelling 20-mile trek in the Brecon Beacons, which included climbing Pen-y-Fan, in seven hours on May 31.
PTSG, along with six other businesses, sponsored and supported the team throughout the challenge.
Damien said: "I would like to thanks all of our supporters and sponsor: PTSG;
Spectrum Signs and Graphics; Illingham Ingham Timber Merchants; The Grosvenor Centre in Macclesfield, Fred's Cafe in Macclesfield; Rainbow Cafe in Macclesfield and the Crying Freeman tattoo shop in Congleton. Special thanks also go to our families and the people of Macclesfield."
Plans for the event started to be put in place two years when Damien decided to undertake a challenge to raise money for charity.
Help for Heroes supports those who have suffered life-changing injuries and illnesses while serving their country. This is provided through grants to individuals, grants to other services' charities, capital build projects and four recovery centres across the UK.
"Help for Heroes is a very important charity and one, in my opinion, should not be needed in this day and age. But, never the less, it is," he said.
"So, my research and planning began. I started by looking up all the wonderful and fantastic things that the charity do to help those wounded or suffering illness after combat and I was shocked to see how many individuals and establishments it has helped.
"The question I then asked myself is "how can I help?". I began by looking into military life – which wasn't that difficult to find people willing to talk about it coming from a military family – and the types of training they do to become the soldiers that we see in daily news reports from battlefields far from home. I was told stories of gruelling drill routines and long hikes in the mountains of South Wales, carrying huge rucksacks in summer heat and snowy winters.
"Then I heard the story that was the inspiration for my challenge. The story was that of the Fan Dance – a Special Air Service (SAS) recruitment challenge, which involved climbing the tallest peak in the Brecon Beacons, twice traveling more than 15 miles over rough ground as well as combatting weather that could change in a matter of minutes.
"Now, as I'm not in the military and have little or no ability to even dare to take on this near impossible task, I decided to create my own version of it. And so, The Help for Heroes Brecon Beacon Pen-y-Fan Challenge was created."
Damien set about enlisting some of his closest friends and work colleagues and together began to write letters and emails asking for donations and sponsorship to support the event.
"After many weekends sat in the cold taking donations and sponsorships from passers-by in Macclesfield and pleading with companies and service partners for corporate sponsorship we had raised £2,500, and still counting," he said.
"Finally, the day of the event was upon us. The five members of the team set out on Friday, May 30 on the three-hour drive from Macclesfield to Brecon, where we spent the night in a makeshift campsite not too far from the base of Pen-y-Fan. At 7:45am the next day we began our challenge.
"As the day was nice and we were making good time we decided as a team to take on some of the smaller peaks as well as Pen-y-Fan twice, increasing the total mileage to more than 20 miles which took the team a gruelling seven hours to complete.
"With blister covered feet and aches and pains, we finished the event with a sigh of relief and a feeling of great achievement. Now, all that is left to do is look back with fond memories and remember the day we took on a version of one of the most intense challenges of our time and were successful, all in the name of this wonderful charity which helps our service men and women who sacrifice so much in the service of our country. In the words of Winston Churchill "Never was so much owed by so many to so few".